Dear friends,
I hope you all had a good and healthy start into 2022!
Looking at the photos of last year, I am really thankful for the wonderful concerts we had with my trio. We also were invited to play some festivals with fantastic musicians like the legendary Franco Ambrosetti, the great Johannes Enders and trombone virtuoso Adrian Mears. Two of these concerts were recorded by the Bayerische Rundfunk - the broadcast from Birdland in Neuburg will be broadcasted on April 29, 2022.
In September last year, Adrian Mears and I had an amazing time being on tour in Namibia (where I grew up as a child). Invited by the German Embassy we played several duo concerts in Windhoek and Swakopmund, did radio interviews and met some very nice and interesting people. Heartfelt thanks to the German Embassy and to everyone involved for an unforgettable time!
I also enjoyed teaching at the European Jazz Workshop in Santa Sofia/Italy, where our students from Dr. Hoch's Konservatorium/Frankfurt got the possibility to work and play with students from Italy, Poland and Turkey. What a joy, to experience the beautiful town, the great food and overwhelming Italian hospitality and to play and hang with the teachers and students from all these different countries. After an online workshop we did before, it was wonderful to finally meet again in real life!
Despite the ongoing pandemic, my trio started this year with a sold out concert at the Unterfahrt in Munich. At the beginning of March we will be on tour in the north of Germany. Thanks to the Jazzverband Baden-Württemberg for the support! I can't wait to team up with the guys again and play some new compositions and meet old and new friends! Hope to see you there!!!!
Best wishes,
Anke
Links:
- BR2: Weltfrauentag-jazz
- BR2 10.12.2021 with Franco Ambrosetti and Johannes Enders: www.br-klassik.de
- SRF/Switzerland: I was invited to by Jodok Hess to do a radio broadcast, celebrating the life and music of Herbie Hancock on his 80. birthday.
- Echo Jazz 2016 / Anke Helfrich Trio playing "Sagrada Familia" youtube
- Making-of-CD-Dedication: youtube
Concert with Adrian Mears at the DHPS in Windhoek/Namibia, September 2021
European Jazz Workshop in Santa Sofia/Italy, October 2021
Anke Helfrich Trio & Adrian Mears, Jazztage Weinheim 1.8.2021, Foto: Thomas Rauch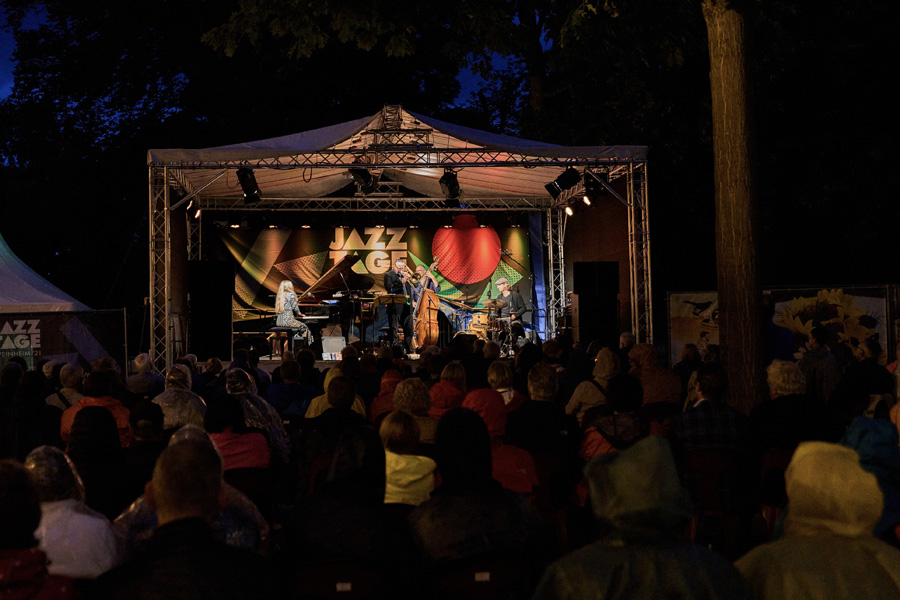 Anke Helfrich Trio & Adrian Mears, Jazztage Weinheim 1.8.2021, Foto: Thomas Rauch
Anke Helfrich, Swakopmund 9/2021
photo by Frank Siemers / concert for the Jazz Federation in Hamburg / January 2020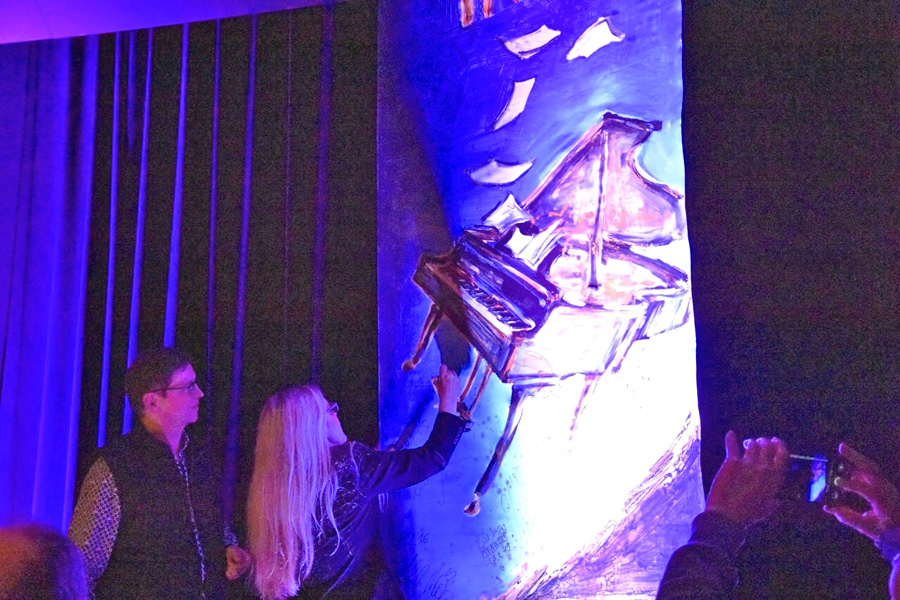 Signing the great poster after a wonderful evening playing solo at the Jahnhalle Weinstadt / December 2019
Nice hang after the Solo-Piano-Night in Ottobrunn: Leonid Chizhik, Julia Hülsmann,Anke Helfrich, Jasper Van't Hof, Cornelius Claudio Kreusch, Oliver Hochkeppel / December 2019
Concert in Mannheim with my buddies / December 2019
European Jazz School - Workshop in Bursa / November 2019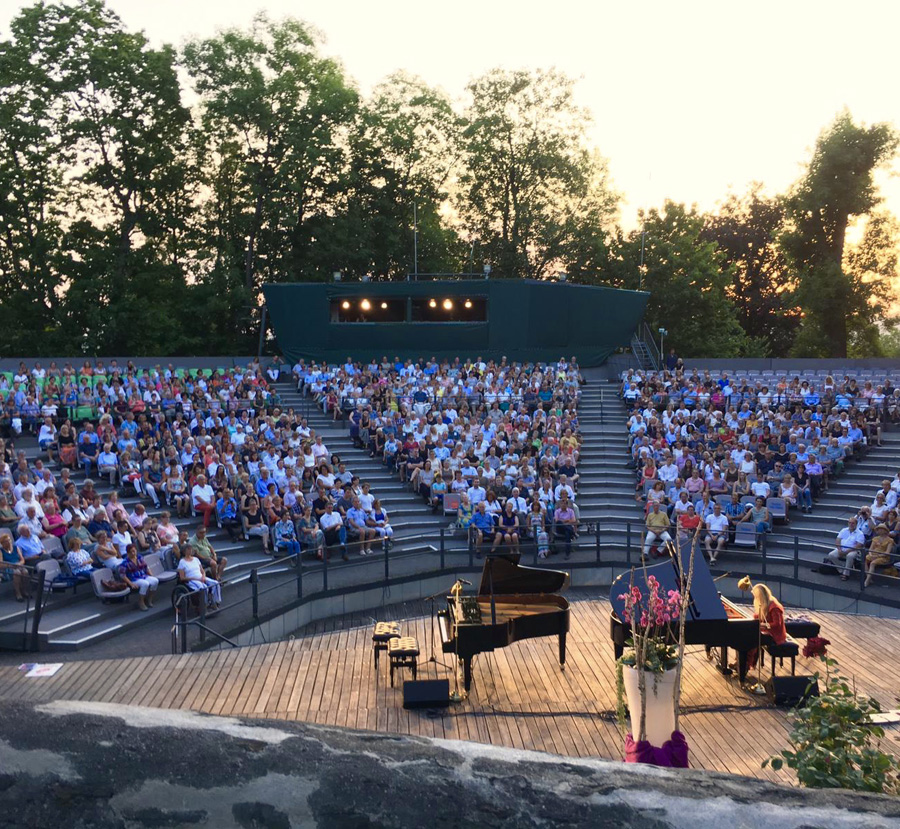 Festspiele Wetzlar
Cecilie Norby's Sisters in Jazz at Ystad Jazz Festival
At the SWR-studio in Baden-Baden to record my radio program 'Female Jazz Piano' - it will be aired on SWR2, April 27th at 22:03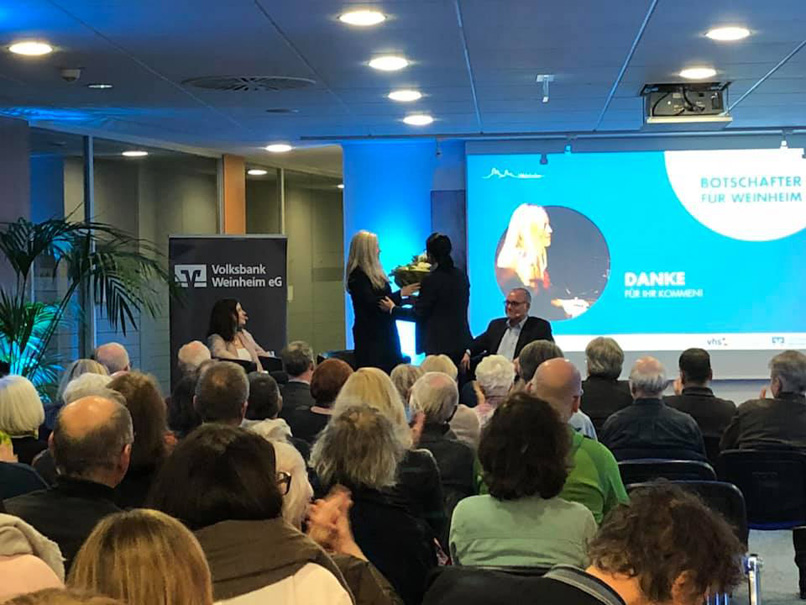 "Ambassador of Weinheim", photo by Stella Kirgiane-Efremidis
Sketch-Jazz-Session with great artist Nicole Schneider in February 2019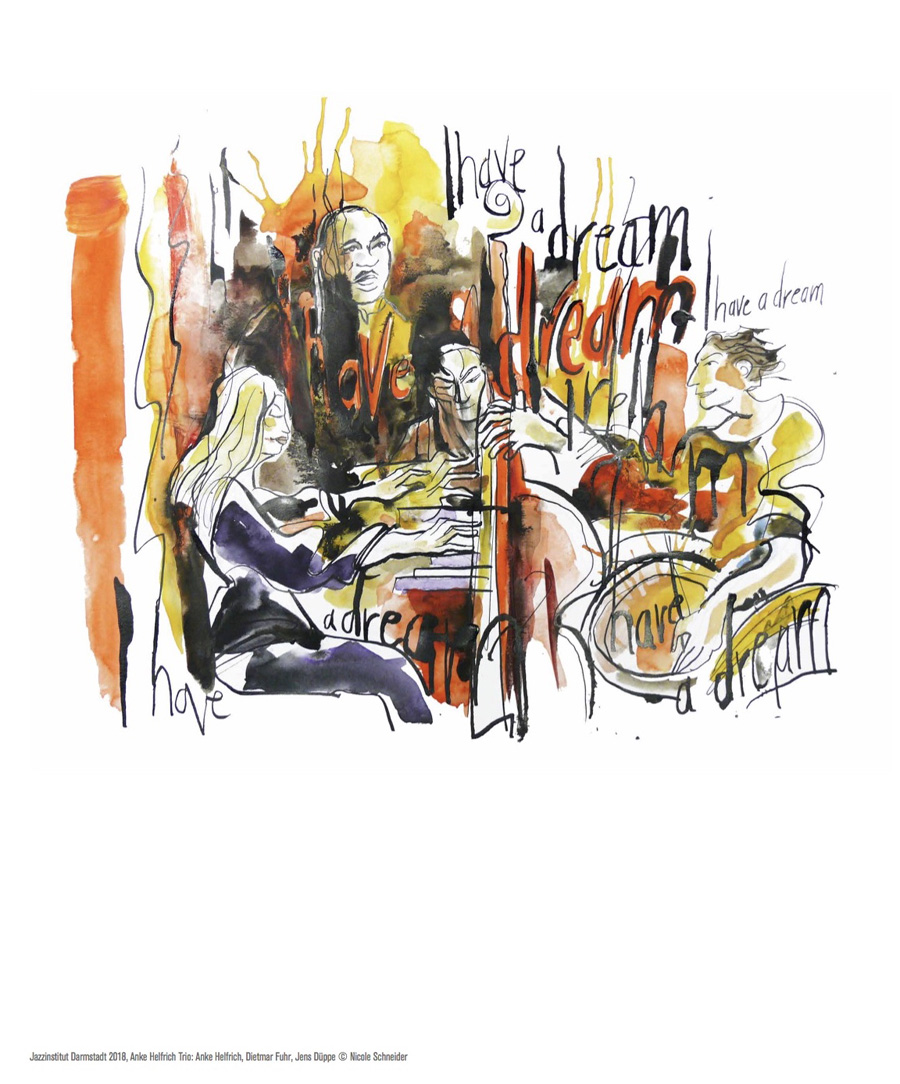 painted by Nicole Schneider during our trio concert at the Jazzinstitut Darmstadt in December 2018
Concert with my trio featuring trumpet legend Franco Ambrosetti in Heppenheim, November 2018
Anke Helfrich & Angelika Niescier Duo live at Jazzschmiede Düsseldorf
More links:
- facebook.com/pages/Anke-Helfrich/
- facebook.com/people/Anke-Helfrich/
- Köpfe der Bergstraße