Dear friends,
how are you in these difficult times? A few weeks back nobody could have imagined a situation like that..it's crazy and also scary. Hopefully you are all save and healthy and manage to be in good spirits. I am thinking of all my friends abroad, especially in Italy, Spain and the US, where many people lost loved ones to coronavirus. We will get through this crisis together and hopefully see each other soon again.
I was looking forward to play more concerts with my trio and to be on tour in Namibia, to have concert dates with Tony Lakatos, Rick Margitza and Gabor Bolla, than with Caecilie Norby's band and other wonderful players, also to meet friends and musicians from all over the world at the Musikmesse, Jazz ahead and the European Jazz School…sigh!
Since weeks I am staying home, all concerts and workshops are cancelled, I am finally doing things that I have been procrastinating on since months (like updating this text), paperwork, teaching online, playing piano, cooking…. I miss playing with other musicians, being on tour, exchanging, meeting friends and family...but that's nothing compared to the suffering of others. I am grateful for having a save place to stay, lucky to have health insurance and to live in a country, that supports its artists. Cultural minister Monika Grütters said: "The creative courage of creative people can help to overcome the crisis. We should seize every opportunity to create good things for the future. That is why the following applies: artists are not only indispensable, but also vital, especially now." Thank you very much! Please take care of yourself and others, stay at home, reach out to people by mail or phone and I really hope to see you again very soon!
Love & peace,
Anke
Links:
- SRF/Switzerland: I was invited to by Jodok Hess to do a radio broadcast, celebrating the life and music of Herbie Hancock on his 80. birthday.
- BR2: Jazztime mit Anke Helfrich (March 2nd, 2020).
- SWR2: Treffpunkt Klassik Extra. Gast im Studio: Anke Helfrich (January 18. 2020).
- BR2: Die Hingebungsvollen (January 11. 2020).
- Echo Jazz 2016 / Anke Helfrich Trio playing "Sagrada Familia" youtube
- Making-of-CD-Dedication: youtube
photo by Frank Siemers / concert for the Jazz Federation in Hamburg / January 2020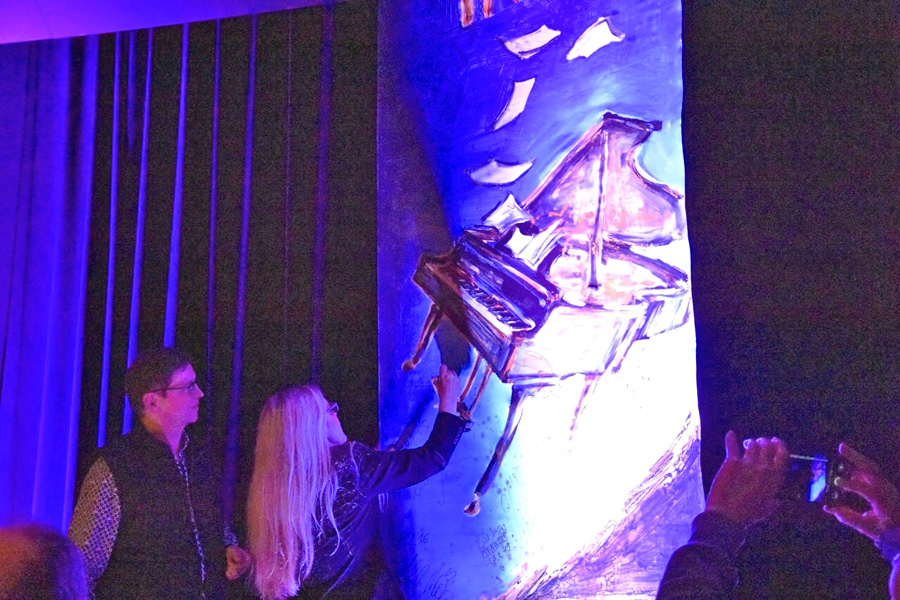 Signing the great poster after a wonderful evening playing solo at the Jahnhalle Weinstadt / December 2019
Nice hang after the Solo-Piano-Night in Ottobrunn: Leonid Chizhik, Julia Hülsmann,Anke Helfrich, Jasper Van't Hof, Cornelius Claudio Kreusch, Oliver Hochkeppel / December 2019
Concert in Mannheim with my buddies / December 2019
European Jazz School - Workshop in Bursa / November 2019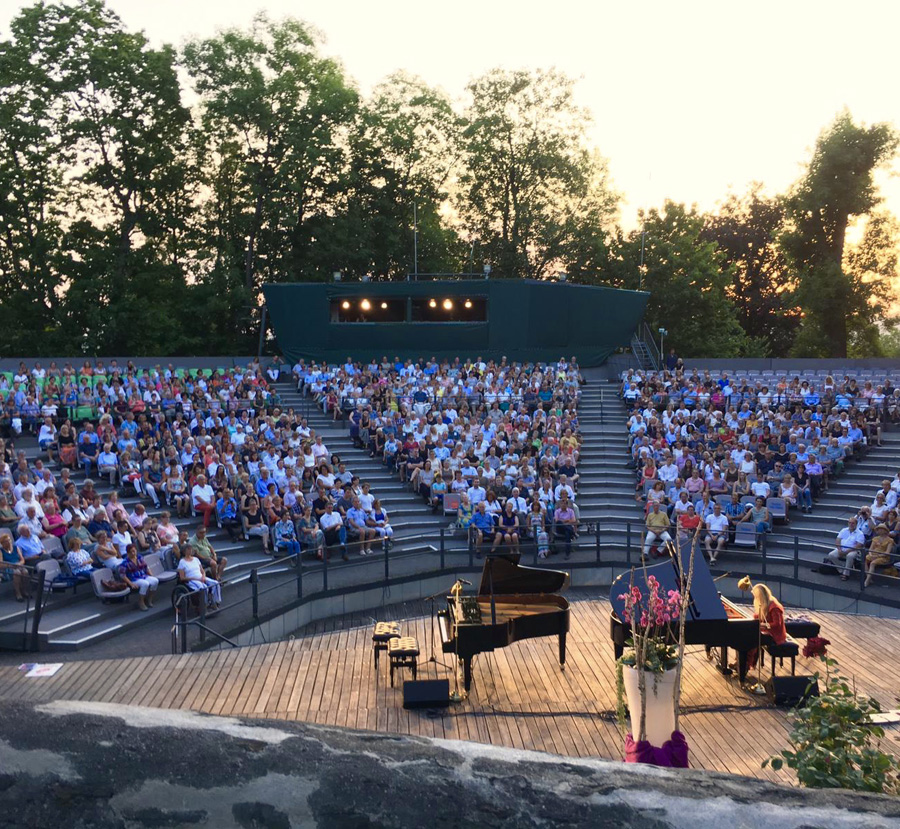 Festspiele Wetzlar
Cecilie Norby's Sisters in Jazz at Ystad Jazz Festival
At the SWR-studio in Baden-Baden to record my radio program 'Female Jazz Piano' - it will be aired on SWR2, April 27th at 22:03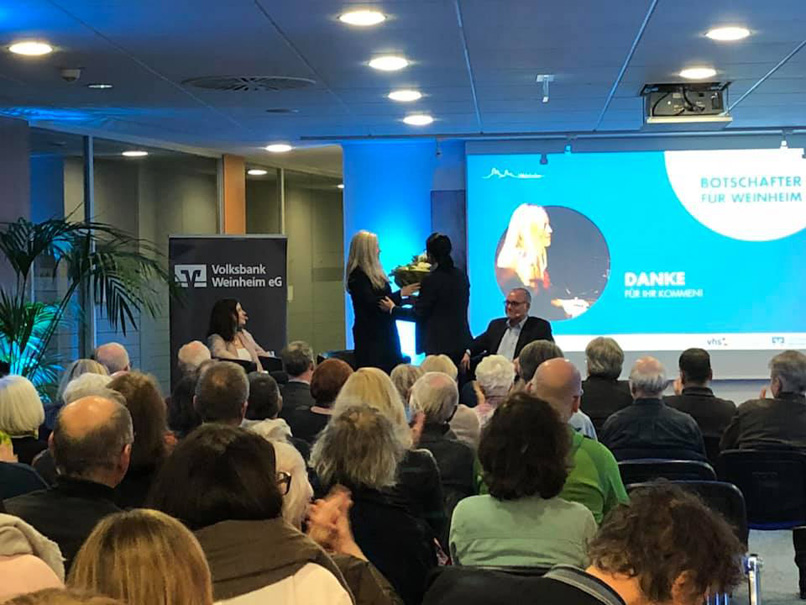 "Ambassador of Weinheim", photo by Stella Kirgiane-Efremidis
Sketch-Jazz-Session with great artist Nicole Schneider in February 2019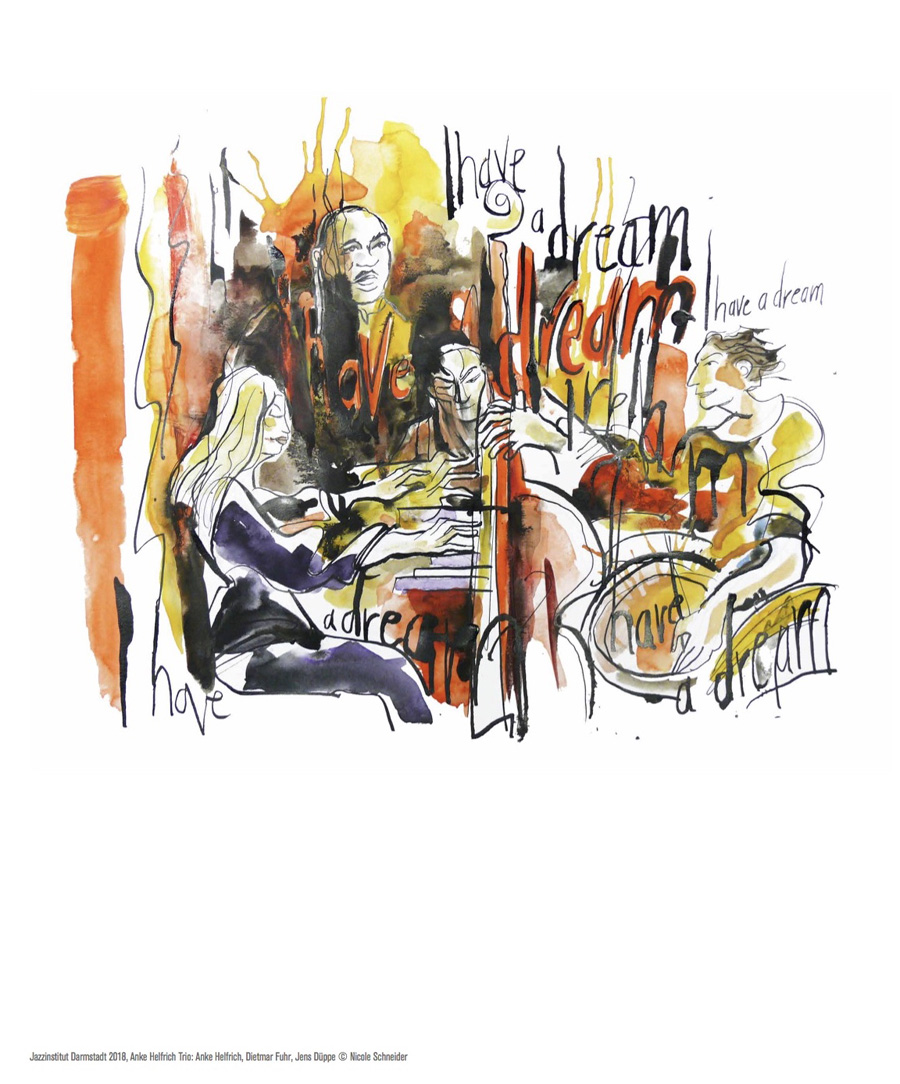 painted by Nicole Schneider during our trio concert at the Jazzinstitut Darmstadt in December 2018
Concert with my trio featuring trumpet legend Franco Ambrosetti in Heppenheim, November 2018
Anke Helfrich & Angelika Niescier Duo live at Jazzschmiede Düsseldorf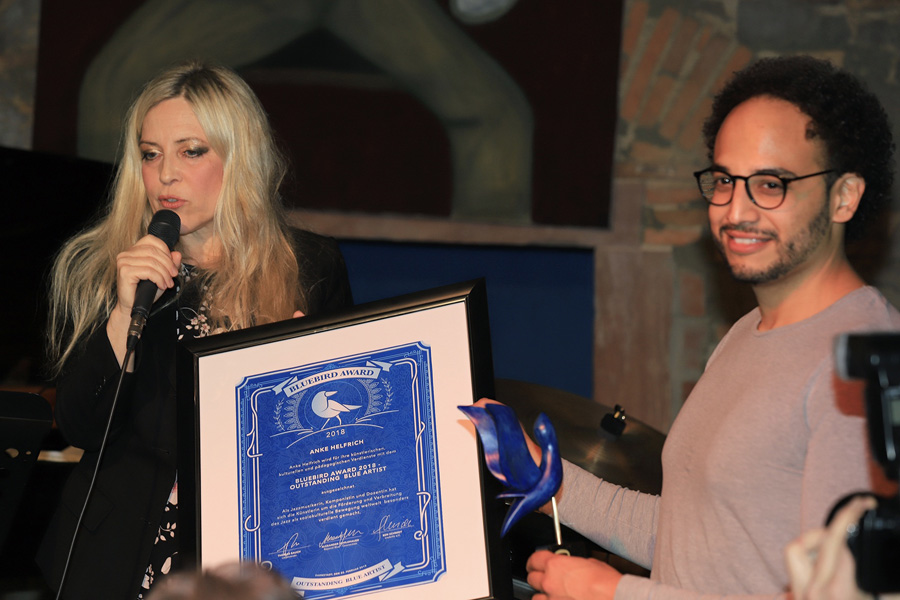 Award-Ceremony at the Jazzinstitut Darmstadt. Photo by Michael Frank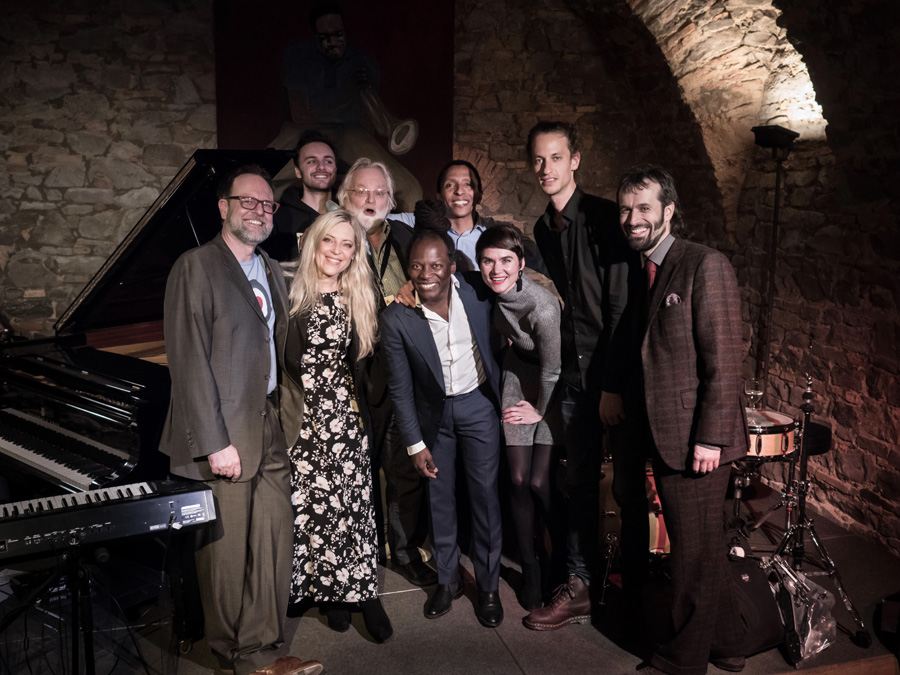 Award-Ceremony at the Jazzinstitut Darmstadt with Arndt Weidler, Alex Schildhauer, Anke Helfrich, Ben Schmidt, Ramon Valle Trio and his wife Marret, Peter Klohmann. Photo by Gunnar Fuchs
Concert Anke Helfrich Trio in Bari October 2017
Anke Helfrich Trio at Katowice JazzArt Festival/Poland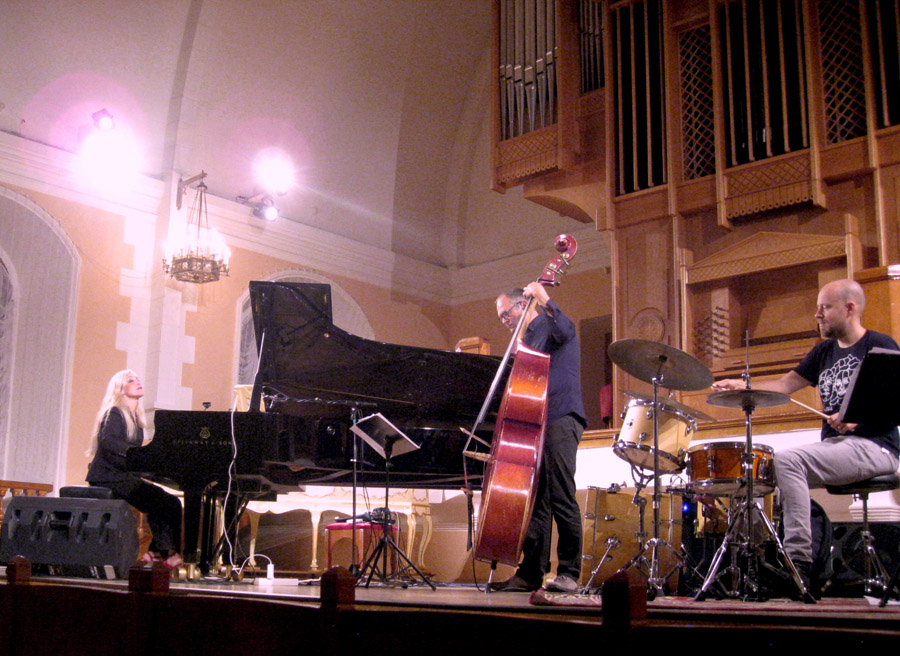 concert in Russia // photo by Friedhelm Schulz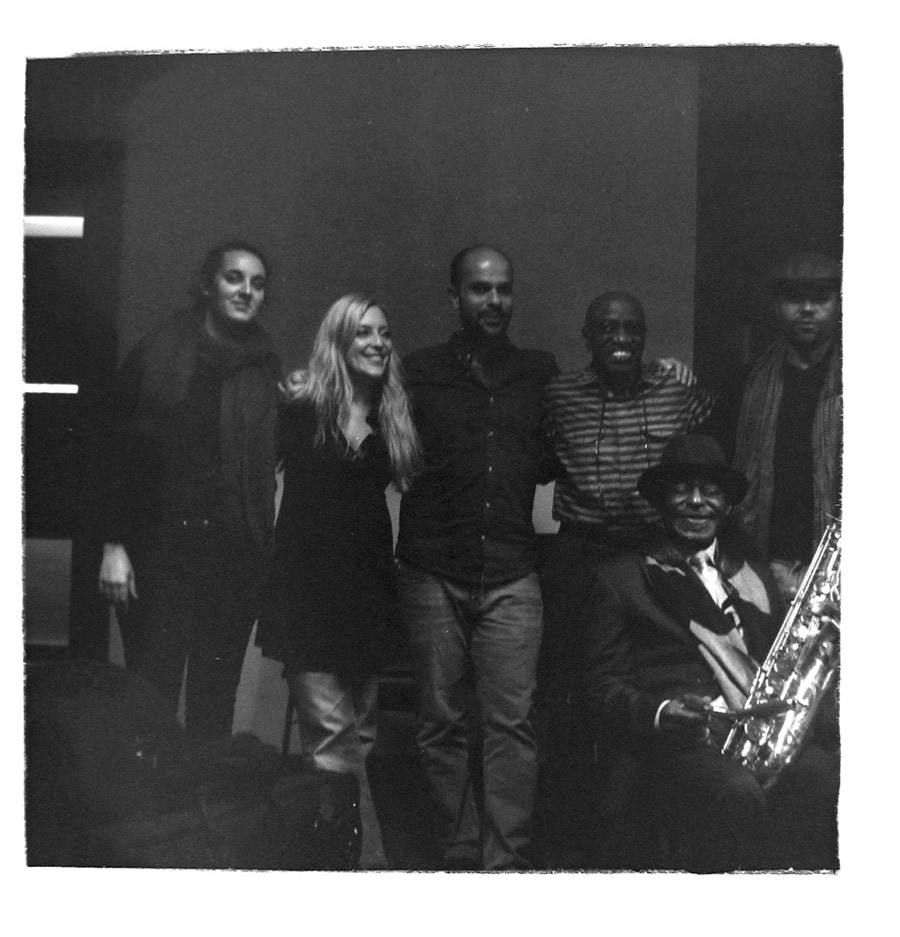 rehearsal with Archie Shepp's band // photo by: main noir / st.tropez
More links:
- facebook.com/pages/Anke-Helfrich/
- facebook.com/people/Anke-Helfrich/
- Köpfe der Bergstraße